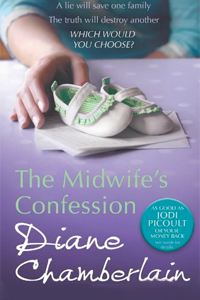 My edition:
Paperback, published in 2011 by Mira Books, 432 pages.
Description:
Dear Anna,

What I have to tell you is difficult to write, but I know it will be far more difficult for you to hear, and I'm so sorry...
The unfinished letter is the only clue Tara and Emerson have to the reason behind their close friend Noelle's suicide.
Everything they knew about Noelle — her calling as a midwife, her passion for causes, her love for her friends and family — described a woman who embraced life.
Yet there was so much they didn't know.
With the discovery of the letter and its heartbreaking secret, Noelle's friends begin to uncover the truth about this complex woman who touched each of their lives—and the life of a desperate stranger—with love and betrayal, compassion and deceit.
Rating:
I really enjoyed this book and just flew through it. Though, to be fair, I would probably enjoy anything that I had decided to read straight after the dreadful excuse of a novel called
The Slap
for the simple fact that it just couldn't possibly be as terrible as that book was.
With a new twist and turn around every corner (or in every chapter in this case)
The Midwife's Confession
certainly was a roller-coaster of a ride.
What starts out as a very tragic story about a women, Noelle, killing herself and her friends mourning her, quickly becomes an intriguing novel uncovering the real Noelle, surprisingly different than the woman everyone thought she was.
The shifting narrative worked really well in this case as it showed the story from all (main) angles, and gave the reader a chance to connect to each character individually.
This was particularly important in the case of Anna as seen through the eyes of the other characters she came across as cold and arrogant but reading her chapters really made me sympathise with her, which was very important to understand what she was truly feeling.
What I probably loved most about the book is the fact that I didn't see every twist in the story coming.
Usually I find these kind of novels awfully predictable and some of the storylines certainly were. But the largest "shocks" came as complete surprises to me, which kept me interested in the story and found me rapidly turning the pages to find out what would happen next.