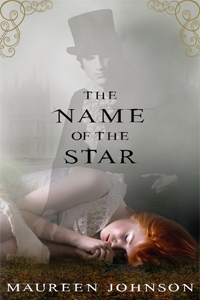 My edition:
Paperback, published in 2011 by Harper Collins, 372 pages.
Description:
The day Louisiana teenager Rory Deveaux arrives in London marks a memorable occasion. For Rory, it's the start of a new life at a London boarding school. But for many, this will be remembered as the day a series of brutal murders broke out across the city, gruesome crimes mimicking the horrific Jack the Ripper events of more than a century ago.
Soon "Rippermania" takes hold of modern-day London, and the police are left with few leads and no witnesses. Except one. Rory spotted the man police believe to be the prime suspect. But she is the only one who saw him. Even her roommate, who was walking with her at the time, didn't notice the mysterious man. So why can only Rory see him? And more urgently, why has Rory become his next target?
Rating:
This was a completely unexpected gem of a book. I had only read author Maureen Johnson's
13 Little Blue Envelopes
before - which is a world away from this novel - and as such was pleasantly surprised by each new development in
The Name of the Star
, as I had no idea what genre it would eventually venture into.
Starting off an an Enid Blyton-esque boarding school book the reader is introduced to main protagonist Aurora Deveaux. Rory moves into a London school from Louisiana and as such for the first time encounters the UK boarding school system with prefects, large dining halls and a range of colourful characters. Having always loved these type of novels I was very happy to see that the boarding school genre still works very well in the 21st century.
The novel very quickly moves away from the introductions and starts to center on the storyline of a modern day Jack the Ripper roaming the streets of East London, coincidentally (or perhaps not so coincidentally) the exact area where Rory's school is located.
From that moment onwards
The Name of The Star
becomes part detective story, part paranormal novel and also remains part Enid Blyton boarding school book. A very interesting combination that surprisingly works really well.
I for once cannot wait to read the next novel in the
Shades of London
series, if it's only half as interesting as the first novel the readers will be in for a treat.