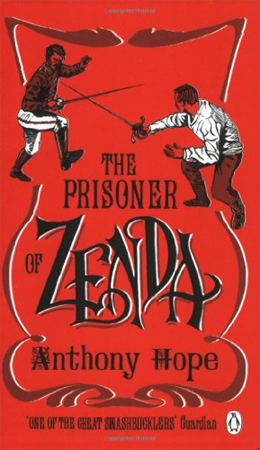 My edition:
Paperback, published in 2007 by Penguin, 200 pages.
Description:
With his distinctive red hair and sharp nose, Rudolf Rassendyll, a young Englishman, shares a striking resemblance with the Ruritanian royal family. A burning curiosity draws him to Ruritania to see the coronation of the new King, his distant cousin. But when the King is captured by his treacherous brother on the eve of his coronation, only Rudolf can save him.
Thrown into a series of adventures beyond his wildest dreams, as Rudolf battles to outwit his enemies he falls in love with the beautiful Princess Flavia, who is betrothed to the King. He must make his choice - should he save the monarch and be parted from Flavia forever?
Review:
It's sort of an alternate version of
The Prince and the Pauper
, but with lots more swordfights and I loved it! The storyline was captivating, the action sequences thrilling and the main character very likeable. I am assuming from the final chapter that there is at least a part two as well, which I'll try seek out as soon as possible!
8/10