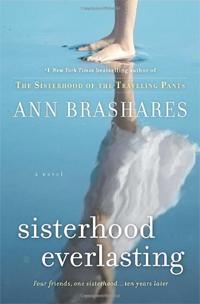 My edition:
Paperback, published in 2011 by Random House, 349 pages.
Description:
Tibby, Lena, Carmen, and Bridget have grown up, starting their lives on their own. And though the jeans they shared are long gone, the sisterhood is everlasting.
Despite having jobs and men that they love, each knows that something is missing: the closeness that once sustained them. Carmen is a successful actress in New York, engaged to be married, but misses her friends. Lena finds solace in her art, teaching in Rhode Island, but still thinks of Kostos and the road she didn't take. Bridget lives with her longtime boyfriend, Eric, in San Francisco, and though a part of her wants to settle down, a bigger part can't seem to shed her old restlessness.
Then Tibby reaches out to bridge the distance, sending the others plane tickets for a reunion that they all breathlessly await. And indeed, it will change their lives forever—but in ways that none of them could ever have expected.
Rating:
After reading the first few chapters of
Sisterhood Everlasting
I was perfectly willing to give the book 1 or 2 stars as I felt that author Ann Brashares had completely ruined the characters I've loved since my teens by writing them OOC and dropping THAT major bomb upon us readers so early on in the book.
Yet I found myself continuing on with it, because I wanted to know how Brashares could possibly go from there and redeem the characters. And surprisingly I found myself quickly engrossed in the story with a near continuous lump in my throat while reading because it was such an emotional ride.
I am still not happy with what happened early on in the book (those that read it will know what I mean and those that haven't yet... I can not say it here as it's a major spoiler), but Brashares managed to give the book a near perfect happily ever after ending. Very cheesy and quite sad, but I suppose the best possible conclusion the characters and us loyal readers could've hoped for after what happened in Greece this time around.
The nod back to the first novel and a character we lost in that one was particularly beautiful and moving.